In 2009, the internet was abuzz with news that a full series was developing out of the "Adventure Time" short cartoon that found an enthusiastic audience online. Hey, this thing's got pretty good music, let me google some names in the credits real quick.
Oh. They're in a band, together. It's called Casey James and the Staypuft Kid, and they look like this,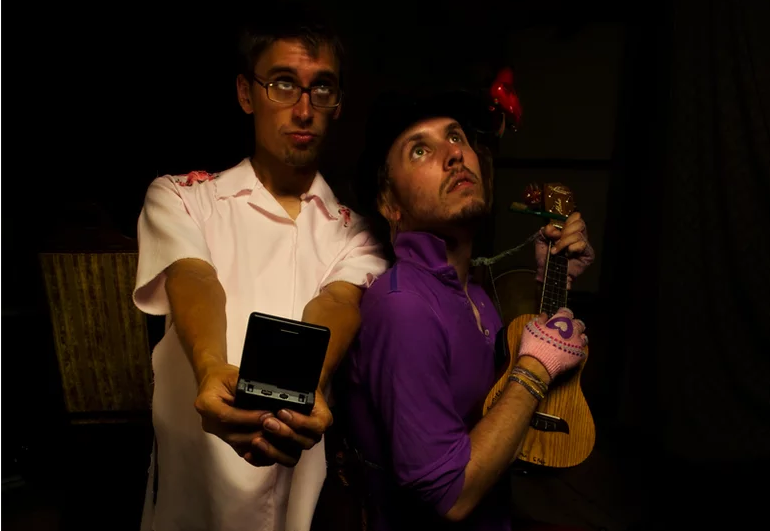 and they have an album called Transylvania Radio. For fuck's sake. What more do you people want???
DOWNLOADS AT THE TOP - THEY ARE STILL AVAILABLE ON CASEY'S HARD-TO-DEAL-WITH WEBSITE SO HERE ARE DIRECT LINKS:
Casey James And The Staypuft Kid EP (38.6 MB) · Transylvania Radio (76.1 MB)
Okay, so admittedly Casey James's voice is a little, uh, 2000s. And I assume if your first exposure to them is their self-titled EP, which is 6 short songs all made entirely with ukulele, beatboxing, and game boy, well, I suppose that's as love-it-or-hate-it as it's going to get. These kids found a NICHE.
But COME ON. If you want to look at it as an artistic-limiters project, these are GREAT SONGS made with game boy and ukulele. Super colorful, always a lot going on, mood vascillates rapidly. A fair amount of malaise in these objectively bright songs. Some of the best lyrics I've heard in indie pop. Absolutely essential album by my standards. Never leave home without it. Honestly I probably play this more often than Transylvania Radio these days just because it's so breezy - Transylvania Radio is a whole thing, I can't just play one track from that.
Let's get to the main event already.
TRANSYLVANIA RADIO
TRANSYLVANIA RADIO is ostensibly a full-length record, but it is 9 songs long (but 17 tracks.) But they branch out!! GOD. I'm just so PISSED that this thing doesn't have universal acclaim. I hope to GOD all the Neocities old-web nerds stumble upon this and fall in love with it.
TRANSYLVANIA RADIO has:
character voices
absolutely terrifying sticker-skeleton silly spook sounds
drum machines and gameboys, yes
interstitial tracks that really create a SENSE of SPACE
SPOKEN WORD bullshit for all of you who ACTUALLY WANT TO HEAR RADIO DRAMAS
God. I couldn't even COUNT the number of people I CONSIDER GOOD FRIENDS AND EXEMPLARS OF QUALITY MUSICAL TASTE who were like WHAT IS THIS
So many instruments. They find a bow and try to bow a cello, a banjo, a bass, a saw. There's an atonal trombone, live percussion. Ukulele, yes. Lots of synthesizers, still a non-zero amount of beatboxing and other non-lingual mouth sounds. Accordions and melodicas.
WHAT DOES IT FEEL LIKE?
It feels like all the most ridiculous parts of Lemon Demon's View Monster, but exaggerated even further. It sounds like what the artist name "Ariel Pink's Haunted Graffiti" makes me think of instead of the shit they actually make. It sounds like the famous Metronomy song from the meme but like, happier.
UGH. There are some extremely beautiful soundscapes in here and then they just get pulled away from you after a couple seconds. "Through The Radio" is like a beautiful half-song that happens right at the start and then the monster DJ is like "oh oops, I broke it" and then puts on a whole other song. "The Mourning Of A Baby Crow" into "Mechanical Fireflies" has some absolutely gorgeous subdued acoustic/electronic atmosphere and then it just gets crashed into by a loud ridiculous doo-wop song. There's a spoken word track "Barnaby Gribble" that has some extremely playful backing music.
There are some quality instrumental songs, or, songs that seem like are instrumental but probably have buried vocals in them. "The Seven Seas" makes me think of like, Ugress. "The Linen Boos" is a perfect electronic ukulele parade stomp, kind of like the self-titled EP, and it wasn't till after I released it that I realized my song "Middle Of The Week" is quite similar to it.
There's not a lot of music that makes me change the way I work. I wish I could sound like Casey James & The Staypuft Kid. They just sound like they're having a blast, and they're DAMN good at what they do. Their website was still online but neglected when I found out about them. They had a Paypal link to tip them, I sent them some money and a note but it came back unclaimed. That version of their website I think was a Flash page, which does not seem to have been preserved by the Internet Archive, but going back a little bit, you can read all the little stories they put on their Wordpress, one of which wound up recorded for Transylvania Radio.
GOD. Looking at these stories makes me think about Dave Secretary and Yardbrain. I think I archived that stuff myself, those little zines he made by hand and scanned and uploaded to his blogspot as PDFs. That can be for next time.